VPBank online is out now!
The brand new VPBank Online is out
At the end of 2016, the International Data Group presented VPBank with the "Outstanding E-bank 2016" award among the Top E-banks in Vietnam 2016. 
This award is the efforts of VPBank in constant quality service growth with the aim to provide advanced and modernized applications with high security level to meet the customer's needs
Since this March, VPBank has released the new version of E-bank - European standard VPBank Online - to give customers even better services.
Along with many crucial improvements, the new VPBank Online allows customers to carry out transactions, transfers, savings and payments with more than 300 types of voucher easily on both your computer, tablet and smartphone.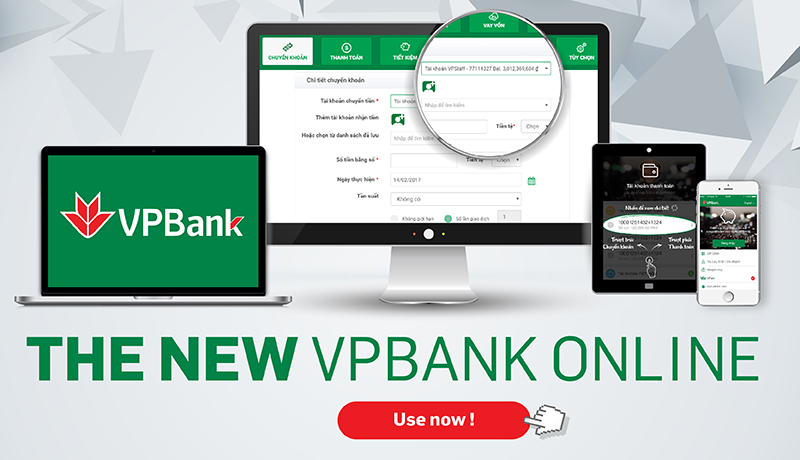 Better improvements compared to older version:
1. Top class security system by SAP - the number one software company in Europe - working more steadily even in rush hours.
2. Added search tool which allows customer to search for beneficiary during transfer.
3. Direct support by clicking into the lightbulb icon or chat with VPBank staff.
4.Easy money transfer and payment thanks to the beneficiary and receipt storage function, along with the transaction form, more convenient for users in later transactions.
5. Support online overdraft without mortgages and disburse within 10 minutes.
6. Each online transaction saves equal Loyalty points to exchange into valuable gifts. Customers can easily search for suitable gifts according to saving points and exchange them.
Note: From 06/3 until April, VPBank will continue to use simultaneously two VPBank Online versions, including the current one and the updated one.
Attention to all customers: These are two seperate system, so if you change your password on one, it will only work on that system.
Guildlines for VPBank Online updated version
1. Click here at https://online.vpbank.com.vn or download mobile app VPBank Online on appstore
2. Fill out the login information and password to start your experience (in case it is your first time using the updated version, please enter your former VPBank Online account password)
We are available for online support during your experiening the new VPBank Online version or you can check out Usual questions for the new VPBank Online here
Furthermore, you can watch the instruction video on Youtube or User guild here (icon bóng đèn trên internet banking)
Contact us at Hotline: 1900 54 54 15 and push 3 for detail instructions.
For more informations or feedbacks, please send your email to: customercare@vpbank.com.vn.